Q1 2019 In Review: Specht & Co.
I really truly cannot believe we're already through the first quarter of 2019. . . I guess they're not kidding when they say "time flies when you're having fun", and boy have I had fun these past 3 months!

Normally I spend about 3-4 hours with my mastermind group at the beginning of each quarter setting goals and making plans for the next couple of months and it truly is some of the most valuable time I put into my business. What I noticed while I was planning for Q2 this year though, is that I spend so much time goal setting and planning, and I almost never go back at the end of a quarter (or month, or week) to take stock of just how much I accomplished and how I grew as a human and as a business owner.
So today I'm committing to spending a few hours away from the day-to-day of my business, solely to focus on what I've ALREADY accomplished so far in 2019. This is partly for my own reflection and documentation purposes, but I hope that it will also give you an inside look of what really goes on behind the scenes at Specht & Co., and maybe you'll find something to take and make your own.
Here it goes. . .
Specht & Co.: Q1 2019 In Review
I worked on the most amazing projects, for the best clients
In the first three months of 2019, I've had the pleasure of completing branding projects for four new clients who are now able to proudly share their business with the world, and finally feel confident in their ability to succeed and become leaders in their field.
Christina M. Stanley is an independent insurance agent, and one of my first local clients EVER. She came to me with brand that felt outdated, and was dealing with a bit of a disconnect from the look of her printed materials to the look of her website. Together we were able to give her one unified and timeless brand that she is excited to share with her clients, and will serve her well for years to come.
C.A.R.E. (Canine Arthritis Resources and Education) is a first-of-it's kind resource that provides practical, evidence-based resources and tools for veterinarians and pet owners caring for dogs with arthritis. Dr. Kristin Kirby Shaw is a true gem and a leader in the veterinary community, and it was such a pleasure being able to help bring her vision for C.A.R.E to life!
Stephanie of Stephanie Coaches helps her clients break out of tired perspectives, get clarity on their values, recover a sense of purpose and identity, and put new pins on their life's map. Stephanie came to me early this year with a brand and website that she had DIY'd and was ready to move on from. What she'd done looked great, but she was finally reaching a point where she felt like she'd grown past the logo and website she'd created herself, and was ready to level-up with some professional branding and web design. I had so much fun collaborating with Stephanie to design a brand that was representative of her as a person and as a coach, and that also connected more deeply with her ideal clients.
Glow With Megan was one of my favorite logo design projects to-date. It helps that Megan is a long time friend of mine (like we worked together at the GAP when I was in high school...THAT long) so I can sort of read her mind a little bit. Megan is about to finish up esthetician school and she needed a logo and some business cards to start handing out to potential clients, so of course I jumped at the chance to help her out! Her logo and business cards turned out to be the perfect representation of what a fun, vibrant person she is and also what a great time you'll have getting your skin taken care of with Glow With Megan!
I've got three more branding projects currently in the works that I am SUPER excited about, so I'll definitely be sharing those on my social media when they're done as well as in my Q2 review post which will be coming in July.
...and collaborated with some other awesome boss-babes
In addition to my branding work which is the bulk of the services I advertise, I also had the pleasure of collaborating with two other brand and web designers on a couple of fun projects.

I've posted about my good friend Caitlin of Ember & Co. before, so you might already know her but we've been working together on a handful of branding projects and it has been so much fun to put our creative brains together to create something both beautiful and useful for her clients! Check out some of her work on instagram for some major heart-eyes. Seriously, she is so talented!

Danielle Tucker is the founder and creative director of Professional Speaker Websites which creates impactful websites that convert for professional speakers and coaches. Over the past couple of months I've worked with her on various logo and website design projects and it's been really amazing seeing what her strategy-focused brain and my creative-focused brain can create together! If you're a professional speaker, or would like to be, you'll definitely want to follow Danielle!
...and started offering a new service!
Branding projects and collaborations, oh my! But that's not all! When I left my corporate job at the end of 2018, I knew I needed to start offering a service that would provide me with work (and income) on a regular basis without having to go out and be finding new clients constantly. And so my Monthly Design Support packages were born. So far they've been a great success, and I've signed on three new clients for this service so far in 2019.
Monthly Design Support packages allow me to really get into the nitty gritty of my clients day-to-day design work to ensure that their brand is being represented as strategically and intentionally as possible no matter where they show up. The benefit for my clients is that they know I've always got their back with anything design related, and the benefit for me is that I know ahead of time how much work they'll be needing for the month so that I can plan my other projects around them without ever having to feel frazzled or overworked.
Monthly Design Support packages have also been great for my business because they allow me to build a consistent base income that I know I can count on every month, which means I don't have to start each new month at zero and hustle my booty off trying to find new clients to pay the bills. Instead I know that a certain dollar amount is already secured, and I only need to find branding clients to fill in the gaps or if I'm looking to increase my overall income level by a significant amount.

Adding these new monthly design support clients has helped me increase my monthly gross income by a little over 60% from January to March and more importantly, it's helped me to be able to plan my life and business a little further ahead than if I were relying solely on new branding projects to come in each month.
I've given a little extra love to myself and my business
If you've been following me for a while, you know that I just recently left my 9-5 corporate job this past October. For the two years leading up to that, I was running my design business as a side-hustle in addition to my 40 hour work week which as you can imagine, didn't leave a ton of time for self care, introspection, or focusing on my own business.
...by reading and journaling
Fast forward to today though, and I can definitely say that I've succeeded at making all of those things a priority in 2019. I've gotten back to reading on a semi-regular basis (usually in the bathtub with some sort of adult beverage) which has fed my brain with lots of new ideas and also an escape when I need it, and also started journaling recently which has really helped me to pay attention to my own mindset on a regular basis. It's still a struggle to make the time to read and journal on a daily basis, but I'm getting closer and closer every day.

Books I've read (and loved) so far this year have been Being Boss by Emily Thompson and Kathleen Shannon, Present Over Perfect by Shauna Niequist, A Magnolia Story by Chip and Joanna Gaines, and How To Style Your Brand by Fiona Humberstone. I've found that as long as I keep a good mix of business and for-fun books, it's a lot easier to hold onto my motivation to read, which is why I'm currently working on two at the same time; Yes Please by Amy Poehler (fun) and The Accidental Creative by Todd Henry (work).
...and attending my first Mastermind Retreat
I posted about it a TON on my instagram, but if you didn't see, I attended my very first business retreat with my coach and mastermind group in Pennsylvania last month and it was absolutely incredible!

Getting to spend four uninterrupted days focusing on myself and my business, and connecting with six other badass boss babes was more impactful than I ever could have hoped for and it really opened my eyes to not only how far I've come in my business over the last 2 years but also how endless the possibilities for me really are!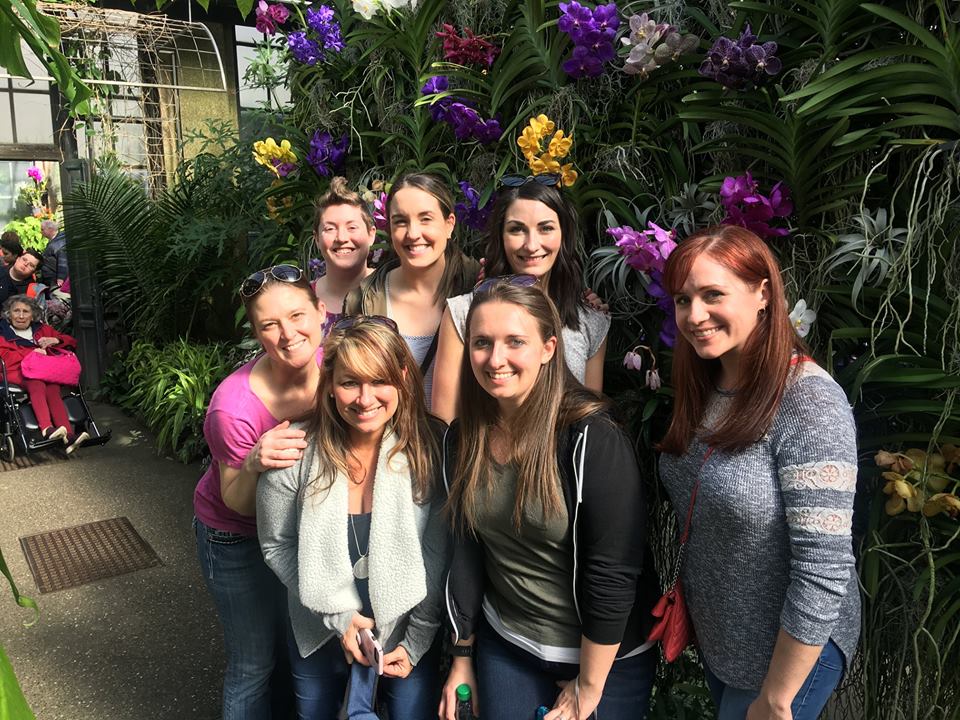 There were two specific things that we did as part of the retreat that really have had a lasting impact on me. The first was taking the KOLBE Index Assessment, which measures your instinctive way of doing things and gives you greater understanding of your own human nature. The intent of the KOLBE Index is to allow you to begin the process of maximizing your potential — both personally and professionally, and boy did it deliver.
I learned that I am a 7-8-2-3 on the KOLBE scale, which means that I am a very high "fact finder" (AKA I need ALL the info before making a decision on something), I am extremely systems oriented (AKA I'm an organization and process nerd), I don't like to be forced to make quick decisions (AKA I am a slow, indecisive decision maker), and I am able to imagine things without having a physical object to refer to (AKA my design skills and imagination are still intact).
None of this was really news to me, I've taken pretty much every personality test in the book and I like to think I'm pretty self aware. But what was really awesome was that my coach Eryn was able to teach our whole group about how to use our own KOLBE scores, and the ones of our clients or team members to develop better working relationships and also how to use the KOLBE as a sales tool. Mind = Blown!
The second thing that we worked on during the retreat was mapping out our ideal week. Now I'm sure you've probably done this several times before - I know I had, and honestly I wasn't expecting to get a ton out of the exercise but I figured I might as well give it the old college try, right?
So I went through the motions, drawing out a weekly calendar and color coding it to my heart's desire. What was different this time though, was that once I was finished I didn't just close my notebook for that beautiful little grid to never be seen again, like I'd done so many times before. Instead, I shared what I'd mapped out with the other ladies who were doing the same thing. They asked me questions like "can you really keep yourself from checking your email until noon" and "what if you took Tuesdays to work on your own business instead of Mondays". My inner circle of biz-besties was there to ask me the hard questions I needed in order to ensure that my new "ideal week" was something I could actually stick to, and benefit from.

I'm happy to report that I've now spent 3 weeks following this new schedule that basically looks like client work on Monday, Wednesday, and Thursday, working on my own business on Tuesday, and keeping Fridays open for whatever my heart desires (or whatever needs to get done before the weekend). Having some structure in my otherwise free-flowing week, and knowing that I have time carved out each week to focus on the things that will move my business forward has been a game changer the past couple of weeks.
So next time you sit down to plan out your ideal week/month/day/morning I would encourage you to take a step further and ask yourself, how will I actually stick to this plan? What systems or boundaries do I need to put in place? Are there any factors out of my control that I need to adjust to accommodate? I can promise you that it's that last extra step that really does make all the difference.
And finally. . . I launched a course!
Some of you may remember that two whole summers ago I held my first DIY Your Logo Workshop, and it was amazing. With the help of my coach, I put together a 3-hour live workshop where I walked students through my exact logo design process to help them DIY their own logo and learn some basic design principles, as well as a little about how to use Adobe Illustrator.
This was a HUGE feat in itself for me really. I was still working my 9-5 so I was pretty strapped for time, not to mention the fact that I was deathly terrified of any kind of live video. But I'd had a handful of new business owners reach out to me looking for a solution for when you don't quite have the funds to hire a designer, but you want a professional looking logo to move your business forward, and I knew it was up to me to fill that gap.
So weeks of late nights, planning, practicing, pitching, and frantic calls to my coach later, the DIY Your Logo Workshop was born, and it was a huge success. I left the workshop feeling on top of the world, confident in my design and teaching abilities, and truly feeling like "I can do this". My students left the workshop feeling proud of the work they'd accomplished, more confident in their design skills, and also feeling like "I can do this". It was good vibes all around. And I knew I needed to share that knowledge with a bigger audience.
Fast forward to February of this year and a lot had changed, but a lot remained the same. I'd finally left my 9-5 job and was seeing fairly significant success in my business, I had the time now to devote to making the DIY Your Logo Workshop an evergreen course that could be accessible ALL the time exactly the way I'd been imagining, and yet I was still fighting the same battles with myself.
The imposter syndrome, thinking "who am I to educate people about design". The self consciousness of not wanting to have to watch myself on video to edit the recordings. The scarcity mindset, wondering "what if nobody buys it?"
But I did it anyway. With support and encouragement from my people, and confidence and bravery from myself, I finally launched the new version of the DIY Your Logo Workshop and it's been a great success! I haven't sold as many seats in the course as I'd like, but wouldn't more students always be better? What I have done though, is create a resource to educate and empower business owners to take their branding into their own hands. A way to make good design accessible to entrepreneurs at any stage in the game. And a way to share my knowledge and expertise with an even greater audience.
And THAT is how I'm choosing to look at success at this moment in life.
If you're interested in designing a logo you love in as little as half-a-day, and you're willing to put in a little time and sweat equity to make your branding shine, then the DIY Your Logo Workshop might just be for you. Learn more here.
Biggest Takeaways
These last three months have been an absolutely wonderful, crazy, magical whirlwind. I could never have dreamed up the opportunities I would have, the things I would accomplish, or the people I would meet. But if I had to distill it down, I'd say everything I've done and learned in Q1 really boils down to these three things:

I (you) have everything I (you) need to be successful. Stop looking outward for the answer when everything you need is already inside of you. You have the skill, you have the knowledge, you have the power and the energy. Trust yourself, be your own biggest cheerleader, and it will all work out.


Lean into your community. Let your people support you. Open up to them, be vulnerable, and ask for help when you need it. Look to them for love and encouragement, but not for a quick fix or to give you all the answers.


Nothing happens all at once. Rome wasn't built in a day and your business (or product) won't be either. Do the things that you know will move you toward your goal, trust the process, and be patient with yourself, with your business, and with others.
If you've made it this far, thank you from the bottom of my heart. This post has been a great reflection exercise for myself, and hopefully it provides some little nugget of value for you as well. If you gleaned anything from reading this, I'd love it if you would leave a comment and let me know what you loved, what resonated with you, or even what was a complete waste of your time. Right now the plan is to do one of these at the end of every quarter...but if Q1 has taught me anything, it's that plans change and people evolve..so we'll just see how it goes.